ASP Anniversary Contest Results (2 of 3)
on
October 21, 2009
at
9:48 am
Due to the high volume of quality entries, we will be displaying the results in three installments. All of the honorable mentions and winners have been contacted. Today we are posting the second half (first half here) of the honorable mentions and then finally the winners on Thursday!

Honorable Mentions (Part 2):
Best Storyline
"Beer Money/Hard Day's Work" by George R.
Video Inspired by "Hard Day's Work" and "Beer Money"
Was well-made and it looked like it was filmed over several hours, but the video itself claimed that it looked like it was done in an hour. We'll have to defer to the video on this one.
Best use of Real Children
"The First Day" by Mister S.
Photographs Inspired by "The First Day"
Mister S. alerted us in his email that he is an actual school teacher which means he was using an actual student to recreate violence, which meant putting his actual job at stake for a t-shirt. That takes balls and we respect that.

Most Edible
"oh well i got killed by a fork" by Samantha S.
Cake Inspired by "Oh Well"
This entry was made entirely of cake! Honorable mention for making death delicious.

Most Actual Restaurant
"Fortune Cookies" by Margaret D.
Photo Inspired by "Fortune Cookies"
Kudos for using a real restaurant. The happy family in the background contrasts with the despair quite nicely.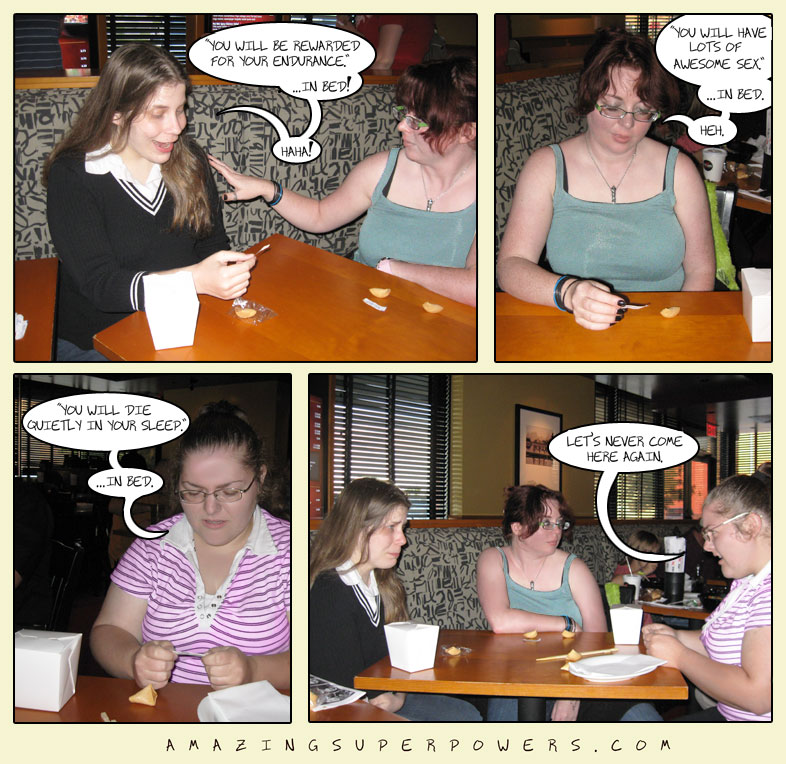 Best Duck
"Batbear" by Pedro S.
Pictures inspired by "Selection"
Look at that duck.
Most Freaky What the Fuck Wow Awesome
"No Fuck With Me" by Charlie S.
Journey Beyond the Veil Inspired by "Shoulder Pain"
We wanted to pick this guy as a winner but we were too afraid to talk to him.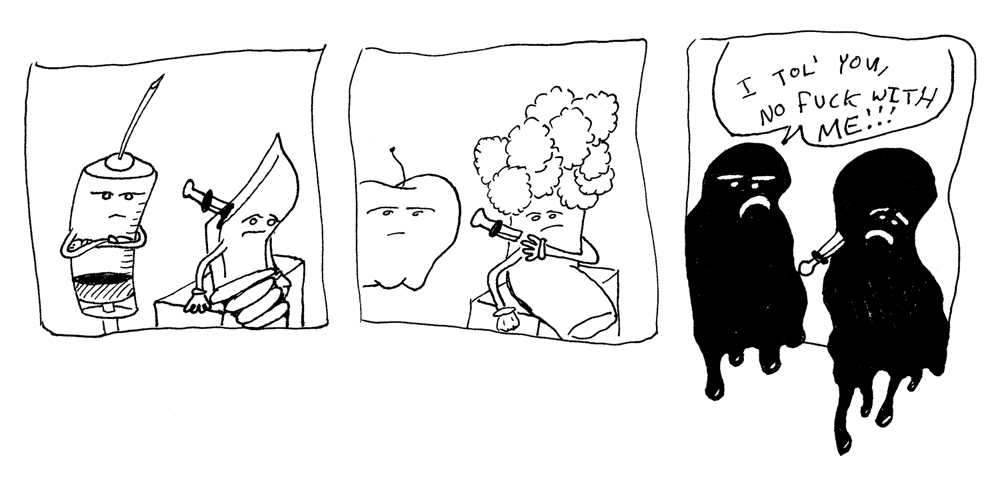 Nice work! Stay tuned tomorrow for the winners!