ASP Anniversary Contest Honorable Mentions
on
October 5, 2011
at
7:00 am
Here are the honorable mentions! This list is composed of entries that had a special flair that deserve recognition for their distinct effort or weirdness. We'll be posting the prize winners on Friday!

Honorable Mentions:
Best Use of Real Horse
"A Real Horse Walks into a Bar" by Nufy S.
Comic Based on "A Horse Walks into a Bar"
We were pretty excited at first when we thought it was the horse who entered the contest.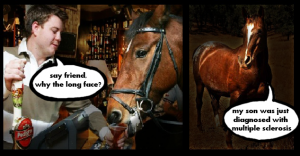 Most Obsessive
"Five Word Summaries" by Robbie A.
Writeups on Every Comic
As a followup to his previous entry, he wrote another couple hundred summaries of the comics that show that we are wasting our time with extra words and pictures.
Click here for the complete list!
Best Hidden Comic
"I'm Flying" by Homeless Heroes
Expanded on "I'm Flying"
Excellently drawn rendition of a comic, with a couple good twists, especially the hidden comic addition.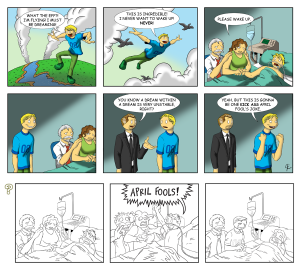 Most Flattering
ASP-Style Comics by J.D.
They say that imitation is the sincerest form of flattery, but outside of a contest it's a lawsuit.
Most Participant
Haiku by Bill J.
Poem based on "Heredity"
Way to put your back into it, Bill.
Goldfish in a bowl,
He has just realised it,
He is now his dad.
Thanks for your time and hard work in entering the contest, everyone! We really appreciate it. Stay tuned Friday for the winners!